The ORGANIC & NATURAL ANIMAL CARE Standard certifies products intended for pets, guaranteeing the use of organic ingredients and chemical substances of natural origin made according to quality and environmental sustainability criteria.
INFORMATION
The Standard arises from the need of a constantly expanding market and an increasing attention to the animal welfare. The Standard provides for two possible levels of certification: Organic Animal Care and Natural Animal Care.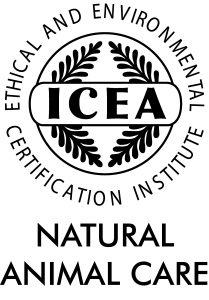 The Organic Animal Care, in addition to the requirements for green chemistry and natural origin, requires that at least 20% of the total of the ingredients comes from certified organic farming, except only for rinse-off products for which the limit drops to 10%.
Natural Animal Care entails all the above-mentioned requirements but does not demand a minimum organic percentage to be achieved.
ICEA ORGANIC & NATURAL ANIMAL CARE certified products guarantee:
Formulations based on the use of raw materials of natural origin and from organic farming;
Prohibition of the use of raw materials derived from animals or plants that appear on the European and International Lists of the Convention on International Trade in Endangered Species of Wild Fauna and Flora (CITES);
Prohibition of the use of raw materials derived from parts of live or slaughtered animals or from their killing or suffering;
truthful labels and claims supported by reliable scientific tests or bibliography.
Here you can consult the list of certified products and their ingredients
DOCUMENTS
Organic & Natural Animal Care
292.5 KB
Technical Standard for the Certification of Icea Eco Bio & Natural Animal Care Products
108.9 KB
Animal Care Certification Contract
323.9 KB
Animal Care Certification Regulation
69.2 KB
Animal Care Inspection and Certification Fee Table
43.8 KB
Informative Questionnaire For Animal Care Certification
79.4 KB
Management Plan